We don't always
choose who we fall in love with, to the point that sometimes we find ourselves falling for an older man. Actually, I am currently myself in a relationship with a man 10 years older and can positively say that it has been the best thing that has ever happened to me.
For me, it has never been a taboo subject or out of the ordinary as my parents also share a 12 year age gap. However, most recently, I had a close friend reach out to me for advice. She was set up on a blind date unknowingly with an older man, had an amazing time but wasn't sure to take it further considering the age gap of 8 years.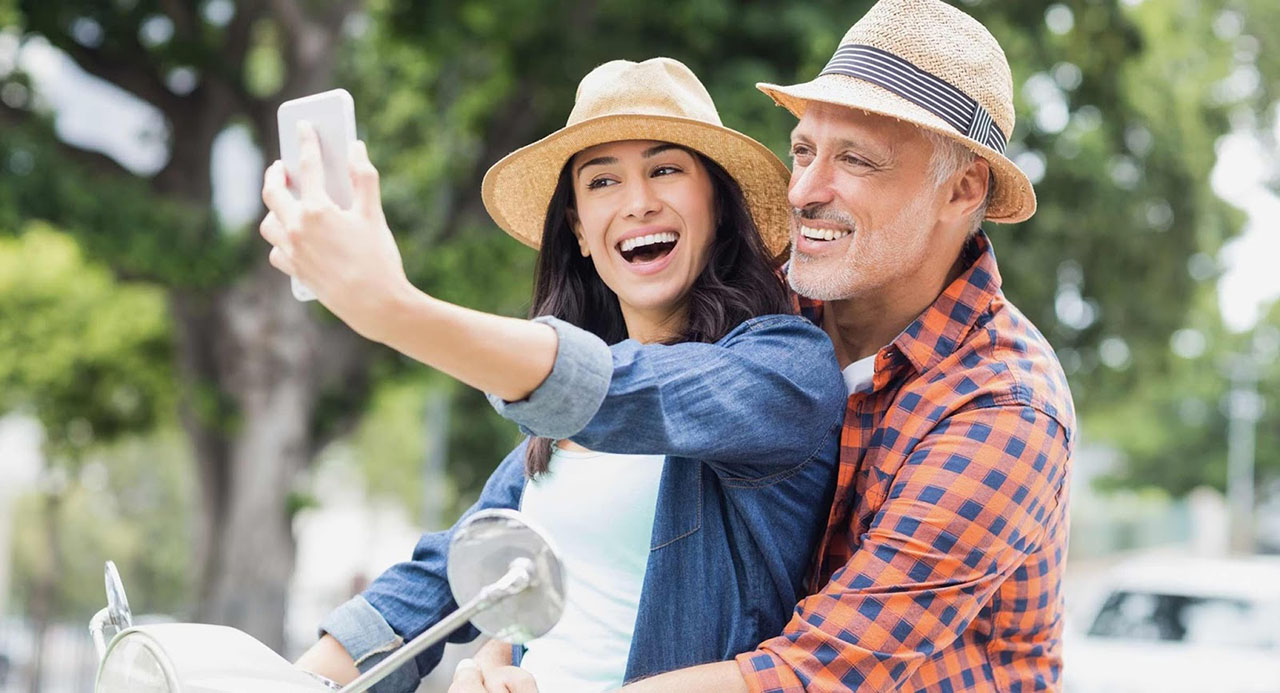 So, here is what I told her about older men:
---
1. An older man is more likely to talk about his feelings
Even if they may not open up straight away, they have more of a tendency to take their time to gather their feelings and maturely sit down with you and discuss the matter in hand. Men, in general, tend to have difficulty in communicating their feelings, but older men understand its importance and they take the time to try and discuss things with you.
---
2. An older man can help you expand on your individuality
Almost to the extent where they help you develop who you are and come out of your shell to find your true identity. They have already been through this period of growing up and finding themselves, and realize the advantages of embracing their true self. Therefore they are understanding and supportive in helping you find yourself and be sure of who you are.
---
3. An older man truly appreciates your individual beauty
With age, they have learned to appreciate inner beauty in preference to exterior, and they're capable of looking past your bed hair or imperfections to truly love you for who you are. They have seen and experienced what age does to the body as well as learned to value a long term beauty over short term youth.
---
4. An older man is your rock
They generally have more assurance developed from their experiences and knowing where they are going. Therefore it is more clear where you are going and their intentions. As they have already lived a lot they are ready for you to turn too when and if you need to.
---
5. An older man will be stimulated by your youth
When we are young we tend to be more outgoing, excited and stimulated by so much more. Just like laughter, this can be contagious and there is no better feeling than feeling young again.
---
6. An older man plans for the long term
They have lived their youth and freedom and therefore have more of a tendency to want to settle down and meet "the one." Therefore they won't waste your time as they won't invest their time in something that won't last.
---
7. An older man is a lot more attentive
They have had more time to understand what a woman likes and how to treat her. Their values have also changed, and they will spend more time showing you how much they care, rather than just saying it. As actions speak louder than words.
---
8. An older man is more respectful of exes
They may have already loved and lost, been through a divorce or even have children from a previous relationship meaning they are more respectful and understanding of exes. He will be open on any contact made with them as he would expect you to do the same.
---
9. Older men are independent
This not only allows you not to lose your independence but also means they are most likely financially and value themselves and free time as he would expect you to value yours.
---
10. Older men have more experience under the sheets
Having lived and learned they know exactly what buttons to press. What else could you ask for?
360 Spherical photos
Best view with smartphone
why:
VR: Virtual Reality effect, 
turn you or device at any angle 
Note: Images are hosted in different sites for different effects
Site: Theta:  
Powerful zoom in / out
why Theta site: many display controls,  
Zoom out to make a crystal ball, all display styles can be downloaded. 
click a thumbnail to watch in 360 
  - 
have fun morphing the images
Theta site lets you change the display styles - see options below images in Theta site or 

 
Share the love
Bridge that Loan
obligation free call with Australia's leading short term Commercial money lender 
No upfront or regular payments required