fastrack index 
Study results
Study: Masks Fail to Filter Virus in Coughing COVID-19 Patients
A small study from South Korea cast doubt on the ability of surgical or cotton face masks to effectively prevent dissemination of COVID-19 coronavirus from the coughs of infected patients.
Median viral loads did not differ significantly when comparing coughing samples of COVID-19 patients without a mask, with a surgical mask, and with a cloth mask, suggesting these masks were ineffective at filtering SARS-CoV-2, the virus that causes COVID-19, reported Sung-Han Kim, MD, of University of Ulsan College of Medicine in Seoul, South Korea, and colleagues.
In a
letter published in Annals of Internal Medicine
, they cited the size of viral particles as a possible reason for masks' poor ability to filter the virus, despite their effectiveness against other respiratory infections. In particular, prior studies found surgical masks, as well as N95 respirators (which were not tested in the current analysis), help prevent dissemination of influenza virus.
Citing concern about asymptomatic and pre-symptomatic spread of COVID-19, the CDC recommended late Friday night that
all Americans should wear cloth masks in public
.
Kim and colleagues examined data from four COVID-19 patients admitted to negative pressure isolation rooms. They were instructed to cough five times each onto separate petri dishes while wearing no mask, a surgical mask, a reusable 100% cotton mask, and no mask again.
Nasopharyngeal and saliva samples had a median viral load of 5.66 log copies/mL and 4.00 log copies/mL, respectively. However, median viral loads for patients without a mask, with a surgical mask, and with a cotton mask were 2.56 log copies/mL, 2.42 log copies/mL, and 1.85 log copies/mL, respectively. Interestingly, swabs from the outside of the mask were positive for SARS-CoV-2, while most swabs from the inside of the mask were negative, the authors said.
The authors pointed to earlier research showing particles 0.04 to 0.2 μm "can penetrate surgical masks." For the coronavirus responsible for SARS, particles were estimated to be within that range at 0.08 to 0.14 μm, they said.
"Assuming that SARS-CoV-2 has a similar size, surgical masks are unlikely to effectively filter this virus," they wrote. "The size and concentrations of SARS-CoV-2 in aerosols generated during coughing are unknown."
When noting greater contamination on the outside versus the inside of the mask, they speculated it may be due to "the mask's aerodynamic features" or "the small aerosols of SARS-CoV-2 generated during a high-velocity cough might penetrate the masks." The finding reinforces the importance of hand hygiene after touching the outside of masks, Kim and colleagues suggested.
The researchers acknowledged that the study didn't examine actual transmission of COVID-19 illness nor whether the masks "shorten the travel distance of droplets during coughing."
Whether face masks decrease transmission from asymptomatic individuals with COVID-19 or those who are not coughing needs further study, they added.
Last Updated April 10, 2020
by reference to deadliest virus means to must be so for such extreme shut down measures 
Mask Liability
If your forced / obliged to wear a Mask and you fear the risk (health risk of wearing a mask) 
download PDF & share to 3rd party demanding you wear mask and have them sign it 
widget below (
download link below widget)
THE SOLUTION >> 
see section this page "GO NAKED"
Peer Review 2020
Conclusion
Preamble

always verify important stuff with experts not Sponsored MS Media
doctors are sponsored by Pharma co's selling vaccines with no liability - ooops


the conclusion 
Masks - fail
Gloves - fail
Planes - win 
practical test results ?
In this video, I talk about chronic mask wearing
Simple question:
If mask mandates significantly reduce the spread, then why are there such massive case spikes even in nations (and US states) that have long had mask requirements?
Did you know 
the globally accepted Koch Postulates (established 1890) has not been applied by anyone to this Virus ? 
The globally accepted "Gold Standard" medical test has not bee applied to this virus ?
The Koch Postulates / The Gold Standard
if in doubt ask your medical expert to verify 
Aidens 10
added 9/12/2020
excellent post with extensive debate 10 reasons not to wear a mask - thanks
Aidan Killian
Aidan is popular deep thinking international comedian, questioning all things right and wrong. He posted his best 10 and the chess game followed
link to this section of page
https://lnkd.in/gcKTt7d#TOC-Aidens-10
THE SOLUTION >> 
see section this page "GO NAKED"
Go naked  - back to basics - prevention is better then cure 
Masks failed
Masks fail but the good news is planes are safe, those that use the industry standard HEPA filters as they have a greater intensity of catch than masks 
and don't have people tampering with them like masks ..  unless your trained like medical staff, you will constantly make hand contact with your masks which increased the risk 
NOT EVEN THE BEST MASK N95 CAN PROTECT YOU 
---
Gloves failed
Gloves ONLY protect you from everyone and everyone from you
and only 1 time .. you have to replace them on each interaction 
the moment you use the gloves across multiple actions, things, people then you cross contaminate 
the moment the glove has contact with and insult (disease, bacteria) it remains on the glove or transferred to anything you touch with the glove. 
The moment the food preparation or waiter or ??  has contact with you or the chair or the table, the plate, the money, the anything then it could be contaminated 
Gloves can only used in 1 engagement the same as surgical operations, 
using them across multiple events; people or things means its the same spread as using your hands.
do you recall all those tv shows where the doctor 
scrubs thoroughly before surgery and then adds gloves
then after surgery 
removes the gloves (they are destroyed) and scrubs thoroughly 
the same is true of their equipment it is sanitised 
can you imagine a doctor sticking there gloved hands inside another person and then using those same gloves to do the same to you
that's exactly what all food preparation places do 
they engage with all products, surfaces, money, machinery, people 
with the same gloves 
they do not have protective glasses only masks which fail
THE SOLUTION >> 
see section this page "GO NAKED"
Go naked  - back to basics - prevention is better then cure 
Planes win
But some GOOD NEWS
AIR HEPA FILTERS WORK
THE SOLUTION >> 
see section this page "GO NAKED"
Go naked  - back to basics - prevention is better then cure 
Test results
A Study on Infectivity of Asymptomatic SARS-CoV-2 Carriers
source
Background: An ongoing outbreak of coronavirus disease 2019 (COVID-19) has spread around the world. It is debatable whether asymptomatic COVID-19 virus carriers are contagious. We report here a case of the asymptomatic patient and present clinical characteristics of 455 contacts, which aims to study the infectivity of asymptomatic carriers.
Material and methods: 455 contacts who were exposed to the asymptomatic COVID-19 virus carrier became the subjects of our research. They were divided into three groups: 35 patients, 196 family members and 224 hospital staffs. We extracted their epidemiological information, clinical records, auxiliary examination results and therapeutic schedules.
Results: The median contact time for patients was four days and that for family members was five days. Cardiovascular disease accounted for 25% among original diseases of patients. Apart from hospital staffs, both patients and family members were isolated medically. During the quarantine, seven patients plus one family member appeared new respiratory symptoms, where fever was the most common one. The blood counts in most contacts were within a normal range. All CT images showed no sign of COVID-19 infection. No severe acute respiratory syndrome coronavirus 2 (SARS-CoV-2) infections was detected in 455 contacts by nucleic acid test.
Conclusion: In summary, all the 455 contacts were excluded from SARS-CoV-2 infection and we conclude that the infectivity of some asymptomatic SARS-CoV-2 carriers might be weak.
Keywords: Asymptomatic carrier; Contacts; Infectivity; SARS-CoV-2.
THE SOLUTION >> 
see section this page "GO NAKED"
Go naked  - back to basics - prevention is better then cure 
Oxygen test
video followed by screen shots
THE SOLUTION >> 
see section this page "GO NAKED"
Go naked  - back to basics - prevention is better then cure 
what happens when you wear a mask - the side effects 
the danger levels of oxygen triggers respiratory issues
the body immune / defence system recognises cells are failing
and triggers "
Exosomes" they are similar to a Virus, in terms of 

effect on cell - 
Exosome facilitates healing by killing poisoned cells 
The medical industry is misinformed thinking Exosomes are covid
Go naked 
how on earth do animals in the wild survive, to eat their food 
they have no way to wash or clean it, to sterilise,  to cook it 
oh yeah ...
they rely on their bodies natural abilities to deal with insults of life
The human body creates and stores approx 300,000 antibodies based on it's exposure to various encounters 
HOWEVER  if you live in a glass house (a bubble) and insulate yourself including suppressing aches and pains with drugs then your body's natural resources are not able to correctly function to protect you
the obvious variable is those with underlying illness and allergies 
when a baby is born it must be protected as it has not immunity, it relies on the feeding mother's milk or similar to provide nourishment 
there after it is exposed to the world and must quickly develop immunity and antibodies  
this continues throughout life but fatigues during 
insults 
when your stressed

when your suppressing your bodies rebah system (taking drugs for aches and pains)

talking cold and flu shots

taking vaccines 

extended hangovers 

recovering from surgery 

old age 
CDC Study
So much debate over whether or not we should be wearing masks in order to fight C0VlD but multiple scientific studies over the past decade have already settled this question. Not only do medical masks not prevent the spread of virus, but a 1995 study proves that wearing a cloth mask can put you at greater risk for infection. Ben Swann breaks down the science.
Editor's Note:
Some of these studies compare masks, but some of them are comparing masks to no masks including this section of one study: Continuous Respiratory Personal Protective Equipment Use vs No Respiratory Personal Protective Equipment. That study states "Two RCTs compared respiratory infection risk in HCWs wearing rPPE continuously to convenience-selected controls wearing no rPPE [24] or following routine care...Meta-analysis suggested a protective, but nonstatistically significant, effect against laboratory-confirmed viral infections
DID YOU NOTICE THAT 
Political & Medical experts NO NOT wear masks during media talks while within 1.5m  of each other ?  
THE SOLUTION >> 
see section this page "GO NAKED"
Go naked  - back to basics - prevention is better then cure 
Conspiracy tips
Conspiracy, 
The Psychology On How To Ignore Them
#1: Facts. Just the facts.
#2: Use consensus as a guidepost.
#3: Don't overthink it.
#4: Trust in probabilities
DR KAUFMAN
DR KAUFMAN M.D. EXPLAINS HOW THIS IS ALL FAKE.
Facebook: Andrew Kaufman > references
THE SOLUTION >> 
see section this page "GO NAKED"
Go naked  - back to basics - prevention is better then cure 
Fauci said NO
60 minutes interview with USA leading Virus expert confirms Masks not needed
6 min vid with fact check data 
THE SOLUTION >> 
see section this page "GO NAKED"
Go naked  - back to basics - prevention is better then cure 
K.I.S.S.
Keep it Simple Silly
if you don't lead a healthy life your at risk for many things - so stop complaining 
if you get fresh air and plenty of 
sunshine (vit D) 
and eat properly then your body 
then your body can function properly
if you mask the problems with drugs then you have problems so be careful
but you already know tat, right !
THE SOLUTION >> 
see section this page "GO NAKED"
Go naked  - back to basics - prevention is better then cure 
Related topics 
April 2021
by Dr April Baller - W.H.O. Heath Emergencies Programme
basics: if NO symptoms dnt wear a mask
later updated in 1.26 min video refer below
if no symptoms then should not wear a mask
https://youtu.be/Ded_AxFfJoQ
fastrack index 
August 2020 
FBK Group Covid-19 rebrand Seasonal flu
  share posts in focus group 
       COVID-19 Rebrand of Seasonal Flu 
Scientific Community fabricate data on COVID-19  
A Swiss Doctor on Covid-19 daily log at wab
Sheep Society
or just watch video below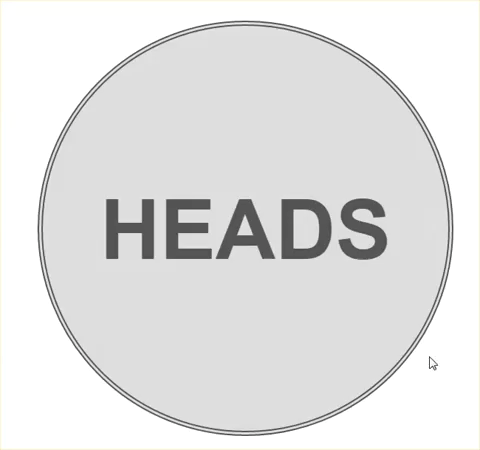 undecided .. flip it heads or tails 
So you don't know WTF to do with your life? You're not alone.
Let the internet determine your future destiny. This website exists as a choose-your-own adventure guide to happiness and life fulfillment.
WA 
All you have to do is click here
Pls share me
Medical and research confirm masks fail to filter virus but good news HEPA air filters on planes do work 
https://lnkd.in/gcKTt7d