Top
Thailand is the 'least miserable' place in the world, said Bloomberg
No typing, point & scan 
for instant access
Social Media QR Menu: Pending 
About
World's Least Miserable Live in Asia, Thanks to Disinflation
We're not sure if Thailand is happy, but it has just been named the 'least miserable' of 74 surveyed countries, according to this year's Bloomberg Misery Index.
The Misery Index, which was released yesterday, tracks how miserable countries are by adding their inflation rate to their unemployment rate. Supposedly, this produces a numerical percentage that tells how unhappy a population is. Thailand ranks lowest, or least miserable, with a score of just 1.11 percent, lower than each of the other 73 countries surveyed.
Singapore, the former 'least miserable' country, is now the runner-ups at 1.40 percent. Japan comes next at 2.70 percent.
Surprisingly, the two powerful countries didn't rank so well. The U.K. is in the 17th spot and the U.S. is number 21.
At the other end of the scale are places like Venezuela, whose lost oil income, scarce food and medicine and high inflation (181 percent!) make it the 'most miserable' place on Earth. It's preceded by Bosnia and South Africa.
Thailand's jobless rate is hovering right around one percent, while its consumer price index has risen less than half of one percent. These numbers sound terrific, but 
Bloomberg
 points out that this isn't all great news for Thailand. Slow inflation can also be a sign of an unhealthy economy.
Though it feels great to buy things for less, the indication of low prices is that there are more goods available than people that want to buy them.
This is all well and good but, honestly, we'd rather rank highly on a 'most happy' scale than on a 'least miserable' scale. 
Ranking
remember this is ranked by the most unhappy ..  and Thailand is last so it is least unhappy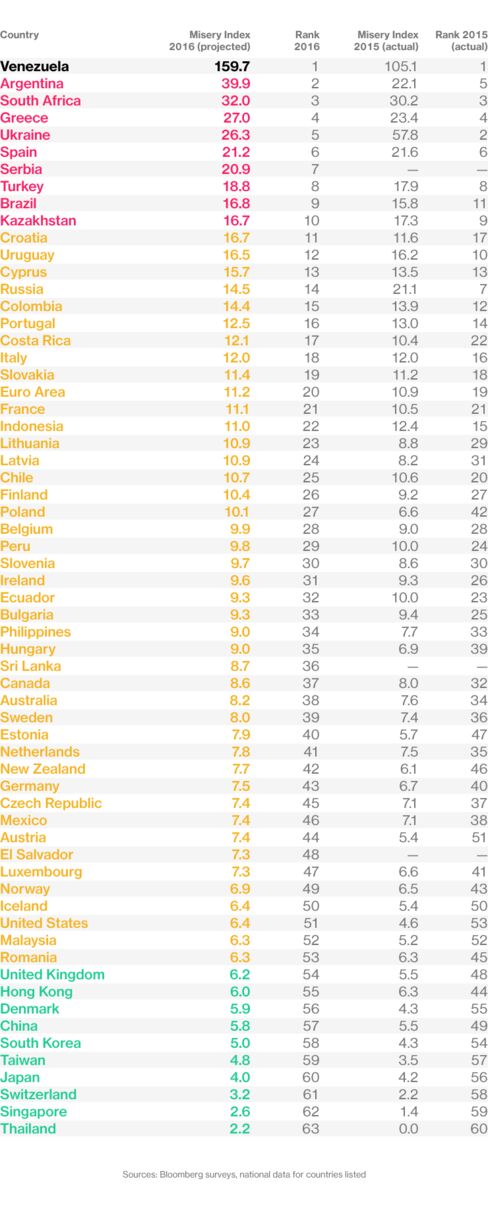 For a look at the full misery index rankings, click here.
Y so Happy in Bangkok
Why are so many in Bangkok HAPPY 
coz Bangkok has Asia's best English speaking Comedy Club 
Weekly shows - Open Mic or Improv (who's line is it)
This weeks cracking show - link
Maybe this is Y
or Maybe this is why Bangkokian's are so happy 
5 star Pool Parties,
 here's last week's awesome event 
Post event: Photos / Videos AmWet Olympic Pool Park  - Bangkok 06/08/16
 


Main Page - pre event   6/8/2016
How to Stay Happy
receive a feed of events pre and post 

Promotions and specials 
Hotels
Share this Page
No typing, point & scan 
for instant access
Social Media QR Menu: Pending 
Donate Photos, videos to this media hub page
Email us 

WaAchievers

 the url (link address)

DON'T email the material only the link or ask for help
Become a roaming reporter - 
use the SM channels to follow, give reviews, tag and share

Become a roaming report (we can give you a 

profile page) .. and more free stuff later
Media Distribution