From the United Nations "MY World" initiative, which has recorded the opinions for All Countries & Country Groups with votes of 7,679,273 at the time of this writing. 
They describe it as: MY World is a United Nations global survey for citizens. Working with partners, we aim to capture people's voices, priorities and views, so world leaders can be informed as they begin the process of defining the next set of global goals to end poverty. The data collected so far is telling, at least about opinions surrounding global warming aka climate change. It is dead last in the list of concerns queried:
This next graph is even more interesting:
Source
 It too shows "action taken on climate change" as dead last among all age groups, gender, and education, but there are three curious columns on the right where it doesn't come in last, but comes in low. These are the countries where people live that have medium to very high "HDI" which stands for Human Development Index.
Note that in these countries (medium to dark blue), people already have the things in place that come in lower than the climate change, so they tend to take them for granted. Countries that have a high HDI have reliable energy, Internet access, political freedoms, and social programs, so it is no wonder these sorts of things come in as lower concerns in medium to high HDI countries. These countries also tend to have a population that has people economically free enough to worry about things like climate change, whereas in some countries, you can't get electricity or get on the Internet to read the latest doom and gloom being spewed by MSM outlets like the Guardian.
---
video
On the same day that Greta Thunberg made an impassioned speech to the UN about her fears of a climate emergency, 500 scientists sent a registered letter to the UN Secretary-General stating that there is no climate emergency and climate policies should be designed to benefit the lives of people. Links:

---
Are people really concerned about climate change? What the polls tell us
source
No. In
another Pew poll
conducted this year an unspecified number of respondents were asked to rank 23 "policy priorities" in order of importance. Climate change came in 
22nd out of 23 (Figure 4):
Figure 4: US policy priorities ranked by importance, 2018 Pew survey
The UK Energy and Climate Change Public Attitudes Tracker
The results of the 2018 (Wave 25) poll, based on 2,102 responses, are available
here
. The poll asks two key questions. First:
Q21) How concerned, if at all, are you about current climate change, sometimes referred to as 'global warming'?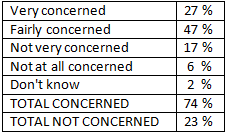 With 74% of them concerned about climate change one would imagine the respondents would rank it as one of the most important challenges Britain faces. And while climate change does better in Britain than in the USA it still ranks only sixth out of the nine "challenges" selected. (The results shown below list the percentage of respondents that listed the priority as the biggest challenge):
Q1a-c) Which of the areas on this screen do you feel represents the biggest/second biggest/third biggest challenge that Britain is facing today?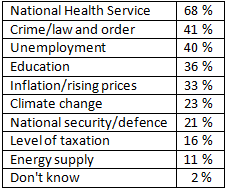 The 2018 Abacus survey of Canadian attitudes
The results of this survey, based on 2,250 responses, are available
here
. The report summarizes them thus:
Most Canadians believe climate change is happening and is caused by human behaviour .
And
…. 75% say action on climate change should be a high priority
But
…. it trails a range of other economic and social issues in terms of perceived urgency
In fact it trails all 14 of the economic and social issues on the survey's priority list: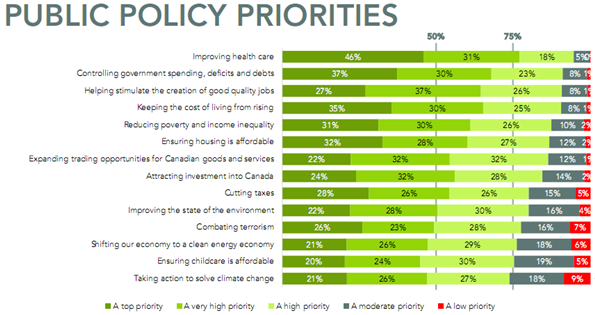 Figure 5: Canadian policy priorities ranked by importance, 2018 Abacus survey
And "shifting to a clean energy economy" comes only two places higher up.
The 2017 IPSOS survey of Australian attitudes
This survey was based on "more than 1,000" responses and is linked to
here
. According to its results Australians are just as concerned about climate change as anyone else:
Most Australians think that climate change is already underway (62% either strongly or somewhat agree). More than half (54%) agree that it poses a serious threat to our way of life over the next 25 years. This increases to 64% agreement when considering the next 100 years.
The report does no include a priority ranking of climate change relative to all the policy issues that Australia faces, but it does rank the priority of climate change relative to "environmental action". And in 2017 climate change once again came in last: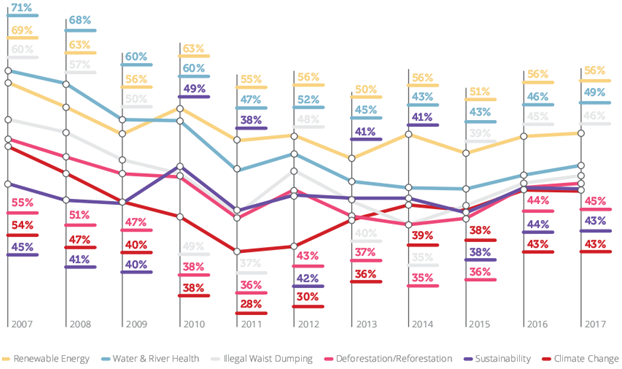 Figure 6: Environmental action priorities, Australia, 2017 IPSOS survey
An apparent contradiction, however, is that renewable energy, which is widely regarded as the solution to climate change, comes first by a wide margin. I'm unable to explain why this should be.
Discussion
What the results of these polls and surveys tell us is that respondents view climate change as a concern when climate change is the only issue they are asked to express an opinion on. When asked to rank climate change against other issues it comes well down the list, and often at or close to the bottom. Clearly the public would much rather have the government devote its efforts towards solving more pressing problems.
And governments are aware of it. Climate change was a non-issue before the
June 2017 elections in the UK
:
Despite the hopes of some groups, climate change has barely featured as an election issue so far. In his speech launching the Labour manifesto, Jeremy Corbyn made no mention of climate change. Theresa May's launch speech also avoided the subject.
And is also a non-issue in the
forthcoming US mid-term elections
:
The vast majority of Democrats and Republicans running for federal office do not mention the threat of global warming in digital or TV ads, in their campaign literature or on social media. Environmental activists and political scientists say it is a reflection of the issue's perpetual low ranking among voters, even Democratic voters.
Why "even Democratic voters"? Because according to another
Pew study
they are over three times as likely to view climate change as a concern than are Republican voters (Figure 6):
Figure 6: Partisan differences in how climate change is viewed in the US, 2015 Pew data
These "partisan differences" are also not confined to the USA. As illustrated in Figure 7 Labour voters in UK are 68% more likely than Conservative voters to view climate change as a "very serious problem", Germany's Greens 74% more likely to view it as very serious than the country's Christian Democrats, Canada's Liberals over twice as likely as Canada's Conservatives and Australia's Greens almost five times as likely as its conservatives. Those who claim that the climate change "debate" has been resolved by science just haven't been paying attention: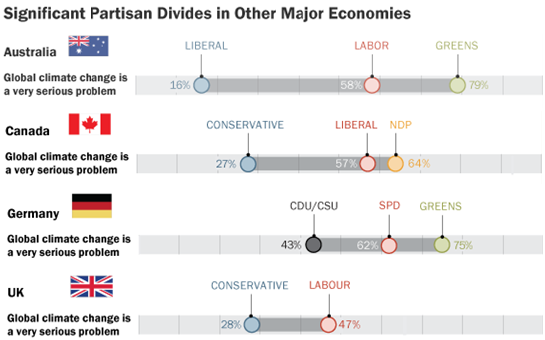 Figure 7: Partisan differences in how climate change is viewed in Australia Canada, Germany and UK, modified from 2015 Pew data
It's usual for public opinion polls that deal with national or local issues to reflect the politics of the respondents. But climate change is a global issue that will, if indeed it happens as predicted, impact people of all political stripes. Politics shouldn't come into it. So why do they? As shown in the Figures above it's because liberals tend to "believe" in climate change while conservatives do not. As to why this should be, that's a question best posed to a psychologist.
Yet while even US Democrats have given up on climate change as an election issue the liberal or conservative ideology of the party in power still dictates US government and state policies. Barack Obama regarded climate change as a serious concern and set US policy accordingly while Donald Trump, who regards it as a hoax, is going off in the opposite direction. Strongly Democratic US states, notably Hawaii and California, have recently adopted aggressive (and almost certainly unachievable) emissions targets while Republican states have not. The same thing happens in other countries. Australia's conservative government is backing off its climate change commitments while Canada's new Liberal government is trying to get climate change back on the agenda. In the UK Jeremy Corbyn has just announced Labour's intention to resurrect climate change as a national priority, the incumbent Conservatives having largely lost interest in it. And Germany? Well, it's a mess.
End note
In reviewing the results of climate change public opinion polls it's important to remember that while almost everyone has an opinion on the subject (there are few "don't knows") these are not informed opinions. The IPSOS Australia survey admits that ignorance is a problem:
Half (50%) of Australians think they understand the causes and likely impacts of climate change. Likewise, 50% think there are too many conflicting opinions for the public to be confident about claims made about climate change. This leaves us in a bit of bind – overall we think it's a real and serious threat, but many of us are not confident about our understanding of climate change.
And public ignorance sometimes reaches extreme levels. An example from France was recently forwarded to me by Energy Matters contributor Hubert Flocard. It comes from a
2017 IPSOS public opinion poll
recently reported in Le Monde. The details are summarized in Figure 8. The graphic is in French, but it tells us that 44% of the French public believes that nuclear plants emit much (beaucoup) of the CO2 that contributes to global warming, 34% believes they emit a little (un peu) and only 16% believes they emit none (pas du tout):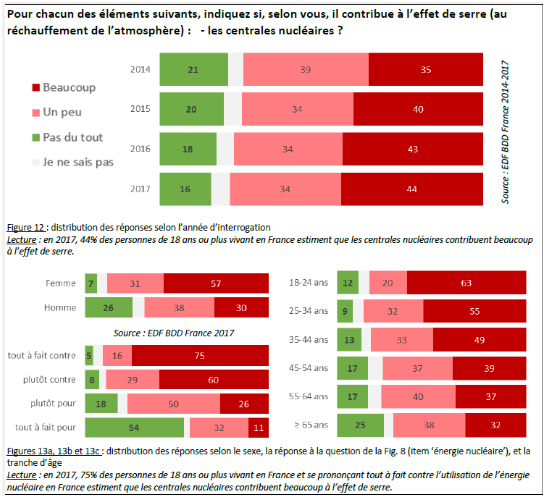 Figure 8: Estimates of how much nuclear power contributes to global warming, IPSOS 2017 poll, France
If enough French politicians also believe that nuclear plants emit CO2 France's plans to replace nuclear with wind and solar become explicable.
---
U.N. global survey: Education top priority despite wealth
source
Education is a top priority among developed and third-world nations alike, beating political freedoms and gender equality, according to a new global poll.
Of the more than 2 million people who responded to the "
My World
" survey, a United Nations project, two out of three identified education as their top priority. Topping the list of other priorities was better healthcare and an honest and responsive government. Bottoming the list are political freedoms, phone and Internet access, reliable energy at home, and action on climate change.
"Education has consistently been a top issue for people around the world, no matter their country, sex, age or socioeconomic status. This data backs up what the UN and experts have seen through related research and experience – that education is a key driver for development issues," said Corinne Woods, director of the UN Millennium Campaign.
"The 'My World' survey allows all global citizens to have a voice, where we can move towards our goals collectively," she added. "It takes the momentum of many people to bring about change, including governments, civil society, parliaments and citizens working together. Nobody can do everything but everybody can do something to make a difference."
The survey is an ongoing project using crowdsourcing to better understand global development issues and trends.
The voting data are broken down by region, age, gender, socioeconomic status, etc. Never before has the U.N. had this much information from citizens available in real time, gathered through mobile, online, paper ballots and face-to-face meetings. The data are being given to relevant governments and NGOs so they can take citizens' wishes into account as they do their planning.
Some of the more telling details gleaned from the survey involved gender issues. Girls under the age of 15 tended to rank gender equality higher than all women in most country groups.
"This suggests that attitudes have changed over time in most richer countries, whereas attitudes in poorer countries are shaped less by social change over time and more by changes in individuals lives," according to a statement by the U.N.
The survey's analytics, available at
data.myworld2015.org
, is interactive, and users can toggle between various filters. You can compare the priorities of a group of 31-to-45-year-old men from Burkina Faso to its counterpart in Fiji, or a 16-to-30-year-old girl from Croatia to her counterpart in Hungary.
"My World" aims to survey 15 million people by 2015.
obligation free call with Australia's leading short term Commercial money lender 
No upfront or regular payments required