About 
The City of Perth Christmas Lights Trail
The City of Perth Christmas Lights Trail is back for its third year. The city will shine brighter this Christmas with 27 mesmerising light installations and vibrant Christmas decorations bringing Christmas joy and lighting up the evenings.
The brand new Christmas Lights Trail includes some from favourites from last year, but the journey is completely different! This year there are three mapped out journeys, that take you throughout the Perth CBD, Northbridge and East Perth – we did all three trails so we could see all the lights.
The City of Perth Christmas Lights Trail displays include:
Icons
single flat images below 
#1 REINDEER GREETINGS, Perth Cultural Centre

As you start your Christmas Lights Trail journey, be greeted by two friendly reindeer standing at over 4 metres tall.
#2 GINGERBREAD HOUSE, Perth Cultural Centre

A sweet-tooth's delight! Take a walk through the giant Gingerbread House that is made up of over 13,000 coloured lights. Who's hungry?
#3 SANTA'S VINTAGE WHEELS, Northbridge Piazza

Catch a glimpse of how Santa used to get around the North Pole in the 1920s with this vintage Christmas car brightening up the heart of Northbridge.
#
4 CHRISTMAS COMBI, Kings Square
All aboard! This brightly lit bus is over 5 metres long and illuminated in almost 10,000 lights. Snap a pic on your own, or with the whole family!
#5 LIFELINE CHRISTMAS TREE, Yagan Square

Experience Lifeline WA's enchanting tree decorated with over 46,000 lights representing those brave enough to call Lifeline's 13 11 14 number.
#6 CONSTELLATION TUNNEL, Yagan Square

Enjoy an immersive, curated music and light show under a constellation of 16,000 lights. The 32-metre-long tunnel connecting the city and Northbridge creates the ultimate Christmas-themed sensory experience and is a stop not to be missed.
#7 NEON NOEL, Raine Square

Step into the abstract and experience an unexpected Christmas. Discover a world of neon augmented reality and fluorescent fun within the windows of the Wentworth building.
#8 JINGLE WALL, 140 Perth

Follow the sounds of Christmas coming from Railway Lane! Kids can become their own seven-piece band as the wall comes to life to play a composition of musical instruments in harmony, each activated by touch.
#9 CITY OF PERTH CHRISTMAS TREE, Murray Street Mall

The jingles continue with this impressive Christmas tree, playing a selection of classic and modern Christmas favourites. This is the tallest installation on the trail, standing at over 12 meters high!
#10 WISH UPON A STAR, Forrest Place

These giant stars form the perfect backdrop for Forrest Place and your selfies this Christmas. Don't forget to make a wish!
#11 ROCKING HORSE, Forrest Chase

You won't be able to miss the stunning 7-metre-tall rocking horse surrounded by festive Christmas trees, taking pride of place on Padbury Walk.
#12 FESTIVE FOX, Murray Street Mall

Meet Murray Street Mall's friendly resident fox as he shimmers and shines in thousands of twinkling lights.
#13 ANGEL WINGS, Hay Street Mall

Have you been naughty or nice? Be transformed into a Christmas Angel by snapping a pic of yourself with these charming wings.
#14 LIGHT UP CHRISTMAS, Hay Street Mall

Experience the dazzling display of this modern take on the classical Christmas tree.
#15 NUTCRACKERS, Hay Street Mall

Standing to attention for Hay Street Mall visitors, the Nutcrackers bring a classic Christmas story to life in the heart of the CBD.
#16 LIBRARY LIGHTS, City of Perth Library

Stand under the cascade of lights hanging from the façade of the beautiful City of Perth Library.
#17 CHRISTMAS PROJECTIONS, St George's Cathedral

A favourite every year, enchanting animated projections will light up the façade of this beautiful historical building. From a traditional nativity scene to Santa surfing at the beach, the projections celebrate what is special about Christmas in Western Australia. From 7.30pm to midnight, music concludes at 10pm.
#18 SANTA'S THRONE, 525 Hay Street

The Christmas Lights Trail is tough work – put your feet up and take a seat on Santa's personal bauble throne before continuing the rest of your journey.
#19 GIFTMAS, Hibernian Place

Your presence is the greatest gift. Step into this life-sized giftbox and activate jingles and illumination for an exciting Christmas photo.
#20 MOODITJ YONGAS, Council House

That's not something you see every day – a mob of 7 illuminated kangaroos have found their way into the city, making it a truly Australian Christmas!
#21 HOT AIR BALLOON, Stirling Gardens

What's that appearing among the trees? Be whisked away to starry, starry heights in this enchanting display nestled in Stirling Gardens.
#22 PRANCER, Elizabeth Quay

Santa has lost one of his reindeers! Can you find Prancer floating on the inlet? At 7 meters tall, he's hard to miss.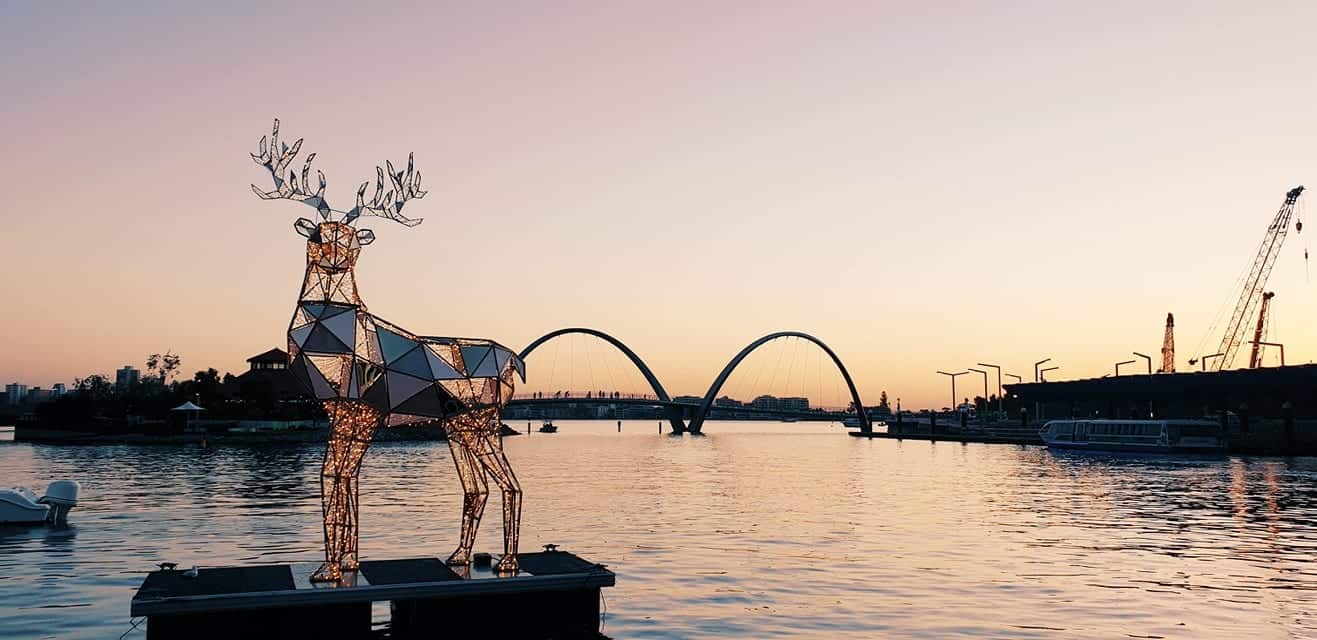 #23 FESTIVE PHOTO FRAMES, Elizabeth Quay

Snap a group photo with your family or friends in these fun, festive Christmas cut outs, complete with the beautiful Perth city backdrop.
#24 CLAISEBROOK CHRISTMAS TREE, Claisebrook Lake

This impressive Christmas tree will brighten up Claisebrook Lake and mark the start of the inaugural Lotterywest Trail at East Perth.
#25 ROYAL HORSE AND CARRIAGE, Claisebrook Cove

Practice your best royal wave when you take a seat in the back of this stunning carriage fit for a King or Queen.
#26 CHRISTMAS TRIKES, Claisebrook Cove

Cyclists love East Perth, and now you can join them! Pick your favourite Christmas Trike and get ready, set, go!
#27 GIANT BAUBLE, Claisebrook Cove

Now standing in front of the stunning Claisebrook Cove backdrop, this beautiful bauble is a favourite every year.
all 5 hours to complete all 3 trails, including stopping for dinner
In addition to the lights, there is roving entertainment on each Friday and Saturday nights from 6-9pm at Forrest Chase, Rain Square, Kings Square and Perth Cultural Centre.
The City of Perth Christmas Lights Trail
The Christmas Lights Trail is FREE and can be experienced every night from 6pm until Christmas Day.
Related links