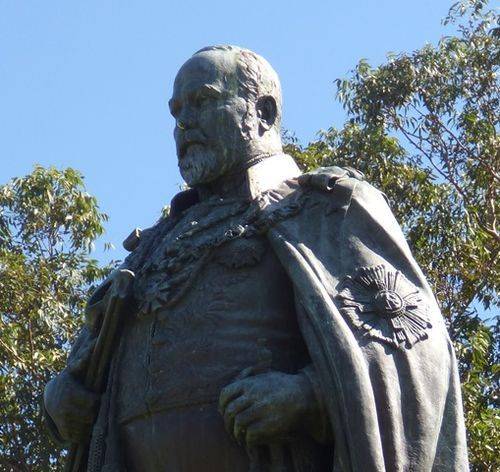 ie.,
John Forrest Kings Park
The statue commemorates John Forrest, afterwards Sir John Forrest, and later Baron Forrest of Bunbury, the first Australian raised to the British Peerage, who did exploration work during his early years. The statue was unveiled in Kings Park on the 28th August 1927 by the Premier, Mr P.Collier, in the presence of 2000 people.
At the age of 22, on his first expedition undertaken in 1869, mainly to find the remains of Leichhardt, he travelled over 2,000 miles in the interior of Western Australia. He discovered and named Lake Barlee and Mounts Ida, Leonora, Malcolm, and Margaret. Later, Forrest, in company with his brother, Alexander, in the face of almost incredible difficulties, succeeded in finding an overland route from Perth to South Australia, completing the journey in five months.
Until his death in 1918, Lord Forrest was prominent in Australian public life. He was the first Premier of Western Australia, a position he held for ten years. He was a foundation member of the Federal Parliament and for many years he represented the Swan electorate of Western Australia. He was also the first President of the Kings Park Board.
In the presence of 2000 people the statue to Lord Forrest was unveiled by the Premier (Mr. P. Collier) in King's Park yesterday. Speakers, including the Archbishop of Perth (Dr. Riley) and A. Lovekin, M.L.C., paid high tributes to Lord Forrest's achievements as statesman and explorer. The statue was the work of Sir Bertram Mackennal.
The John Forrest statue is located on a roundabout at the intersection of Lovekin and May Drives. It was unveiled in August, 1928 and honours the first Premier of Western Australia (1890 - 1901) and the first President of the Kings Park Board. John Forrest became Surveyor General in 1883 and officially named the gazetted public area as Perth Park in 1895.
In 1918, Sir John Forrest was to be made a Baron of the United Kingdom but he died in September before King George V formally signed the Letters Patent. The title of Lord Forrest was therefore never legally established but was applied to this monument when erected.
In his time, he doubled the size of the reserve, sought funding for the park and heavily influenced the first years of design and planning. Sir John Forrest was also chiefly responsible for the construction of Fremantle Harbour (1898), the Eastern Goldfields Water Supply Scheme (1903) and the Transcontinental Railway (1917).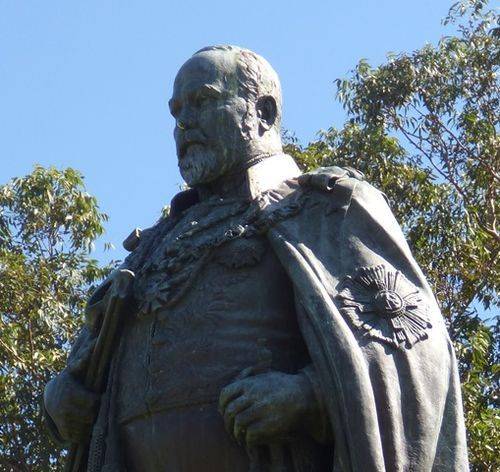 Share 
https://kingsparkwa.com/StatueLordForrest
Location
Roundabout of Lovekin and May Dr
note: map image 
IS NOT true North
, rotated for best view
Getting there
Trek map shows this Icon and other Monuments 
in "related topics see "trails" to see which trail includes this Icon
Trans ops
Boat, Bus, taxi / uber, Bike and foot 
1. Google map link this page
Trek map
Icons Kings Park    
Trail s
ymbols: colour coded lighter easy, darker harder
knowledge base inside symbol of Icon or trail
  Menu top left:  Lookout points
Tours
Prices from online booking services 
Video
two (2) formats 
2. 360 Spherical video 
1. Standard video: 
in production
2. 360 Spherical: In Production 
Social media hub this page 
360 Spherical photos
Best view with smartphone
why:
VR: Virtual Reality effect, 
turn device at any angle or better turn around while holding the device for 360 / Spherical view, 
Note: Images are hosted in different sites for different effects
Site: Theta:  
Powerful zoom in / out
click a thumbnail to watch in 360 
  - 
have fun morphing the images
Theta site lets you change the display styles - see options below images in Theta site or 

 
see also google street view below 
Street view
how to
1. street view (widget below)
2. step inside 
3. tips and tricks
1. street view 
fly, jump walk
sample image with tips - followed by live window
rotate mobile to landscape mode or use 
scroll down for step inside tips and tricks - fly, jump, walk
Mobile link: see get free app 
- link below
Zone Icons
Kings Park
last five (9) by latest edits: see table bottom of page 
(sort by any column)
Tours
Prices from online booking services 
Social Media
SM channels & hashtags below. give reviews & share
more channels below.....  
SM channels
show the love... like, share and stuff 
do more .. 
Copy the media hub link / hashtags (above) and paste to your
post (Hashtags 
group posts into a stream
 ... cool!)
Pls share me
Tip: Copy & paste these hashtags & web page url into your post for search match



Statue of Lord Forrest in Kings Park on the roundabout joining Lovekin Dr and May Dr a short distance North of the big Boab Tree , the statue recognises Lord Forrest contributions to the state https://kingsparkwa.com/StatueLordForrest
BEST HASHTAGS 
#JohnForrestKingsPark  #KingsParkWA   

#PerthCity 

 #VisitPerthWA   #PerthAdventure   #WaTourism  #WaAchiever

 



How to use Hashtags for Social Media
Social Media Channels
Welcome aboard



Support local business and DO post in social media to share the memory of your #HappiMess
we test and present various apps and social media platforms ... try them, use them 
most places we visit will have a listing in this page with all social media channels, search copy and paste
SOCial: 
Share in 
Fbk Grp Tourism WA
Virtual welcome visitors in Google maps

Related topics
many trails here  
This Icon is at the start of 
South East ZONE of Kings park has the highest elevation changes 
tricks to survey the trails this zone are noted under "logistics"
tip: 1st view 
KP trails
Nodes, Elevations, Maps, routes Logistics
open table to sort by any column 
Feedback
we DO appreciate feedback to make content useful 
feedback GSV
we over use many apps / widgets / gadgets in the page to suit users at different levels
Bike Hire
remote cashless system - stations around Perth with free app
OTHER
What we do 
create 360 images into google maps 
from the traditional Google SV (Street View) 
Virtual tour 
(known as STEP INSIDE) onto 
trails and inside venues
we MAY also create virtual tours in 3rd party platforms (see below)
as well as a visitor page and gps hiking route with photos, 
based on time  avail & return visits, 
if you enjoy please share 
feedback GSV
Thank you 
all aspects of General Insurance, save time call 
the best in the west 
+61 8 93688 999 
or visit 
CIB website
 for after hours mobile
Buy me a Coffee
when I roam with a few bags of camera gear, phones & compass I get tired 
ultimately I prefer support for visit my local charity project 
Places visited