fastrack index 
In contrast to Henry Camfield, this sculpture of pioneer Paddy Hannan is symbolic of the ebullience of the late 1890s and the discovery of gold which put Western Australia on the map.
Epitomising the sense of determination to overcome the odds which enabled the 'barrowmen' to conquer their hunger, thirst and weariness ahead on their 600-kilometre journey east to Kalgoorlie, he demonstrates the qualities of the 'Aussie battler'.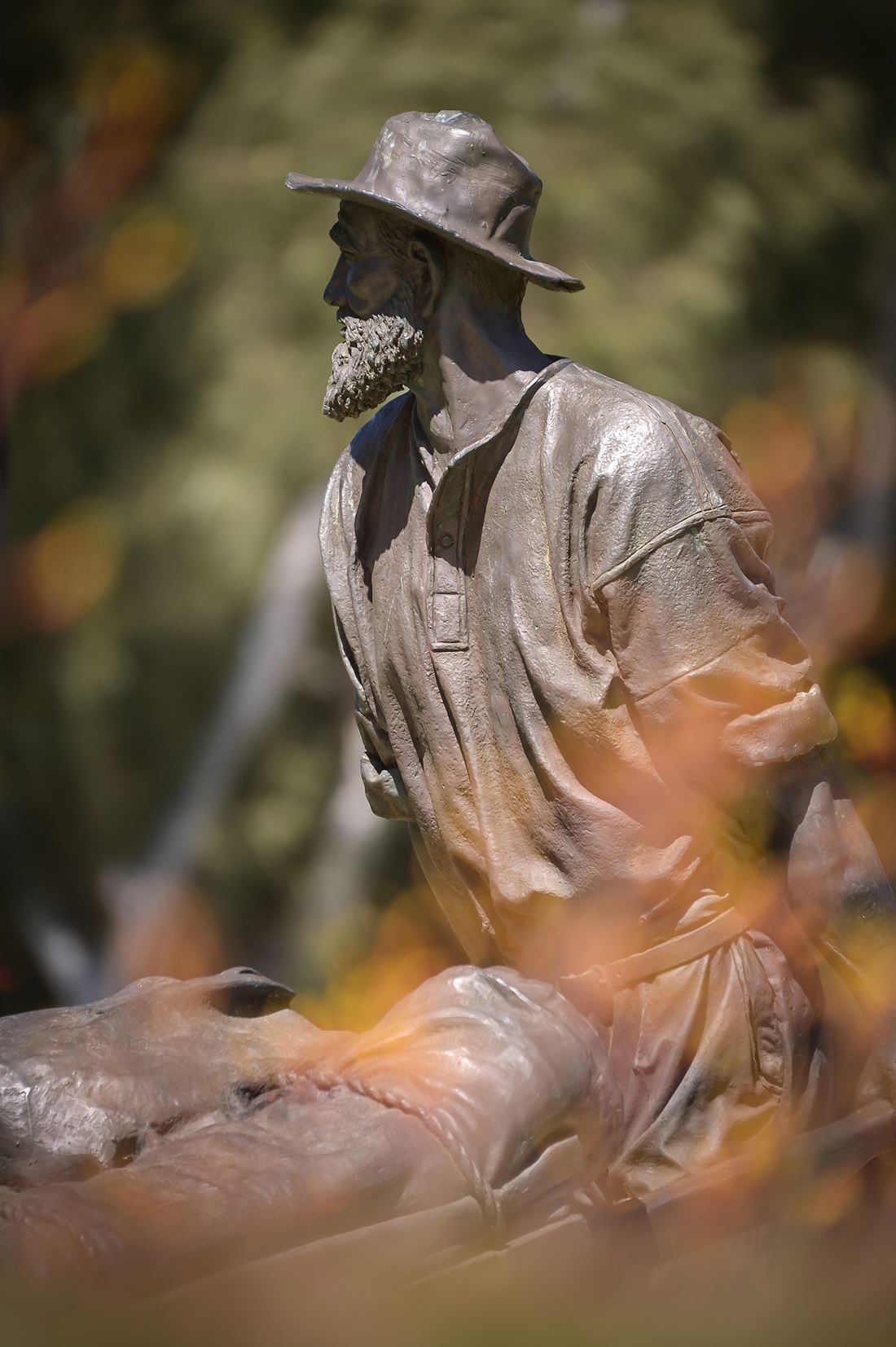 An historic name in the Goldfields, Paddy Hannan won fame for his discovery of what became Western Australia's Golden Mile - the richest square mile on earth in Kalgoorlie. But life was harsh. This statue pays homage to the thousands of forgotton men who came in search of their fortunes during the gold rush, with their fortitude laying the foundations for the state's prosperity.

Here Paddy pushes his wheelbarrow and glances over his shoulder at traffic heading east, towards his beloved Goldfields.



Paddy Hannan
or use the photo stacks to view other
window below, 
before you start 
view basic tips below widget to be the best
Basics:
Smartphone 
use the external link 
for dynamic rotation of screen (turn to any angle)
Navigation:  tap screen once to see options, tap again to remove
if your screen has 3 dots ... in top right corner "click" and select your browser
Screen Icons:  
bottom of window: images or zones
inside image: a. 
another photo  b. other is info and/or link 
Device will show help options within app
 fastrack: 
be 
pro in 1 minute
Start Points
Start Points: Heritage Sculpture Trail
Route map
GPS live tracker route saved to several sites
desktop view of ALLTRAILS: interactive view of elevations and photo in route
we include path to bike hire station
link below image
gps route, elevation, pics 
Other links this route
Relive with video
includes 
3d interactive route 
move along the path to see elevation
Street view
how to
1. street view (widget below)
2. step inside 
3. tips and tricks
1. street view 
rotate mobile to landscape mode or use 
tip: use external link, match sample image to fly, jump, walk 
Desktop link 

Mobile link: see get free app 
- link below

Trek map
Icons show: Distance, elevations and link to more in each 
  Menu top left: select 
Zone Icons
Burswood
last 9 by latest edits: open table to sort by any column
Places visited