This beautiful sculpture of Dame Mary Durack shows the historian and author engaged in a dialogue with her 'young self' - taking on the role of ancestor and passing on the history of Western Australia through her book, The Swan River Saga.
One of the earliest park sculptures, the work was designed in 1996 by Charlie and Joan Smith.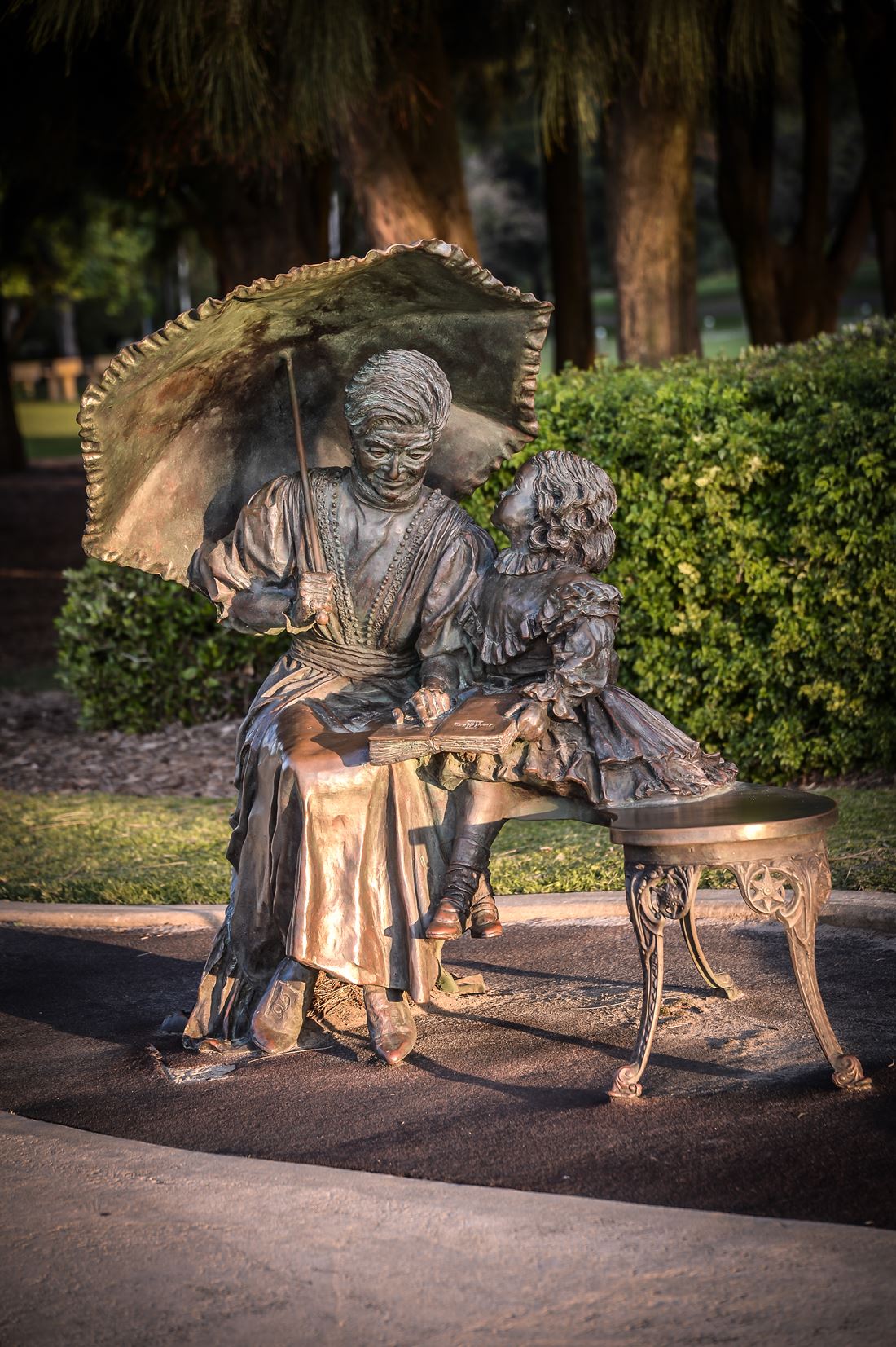 The inspiration for this sculpture is Dame Mary Durack, renowned Australian author, engaged in a dialogue with her 'young self' as a child. As an adult she represents an ancestor passing on the family history. The two 'Mary's' share a sense of purpose; their attention is rivetted to each other, and on the manuscript - 'Swan River Saga'. In this and her other works, Dame Mary captured the essence of life in Perth's pioneer days.
The Storyteller
or use the photo stacks to view other
window below, 
before you start 
view basic tips below widget to be the best
Basics:
Smartphone 
use the external link 
for dynamic rotation of screen (turn to any angle)
Navigation:  tap screen once to see options, tap again to remove
if your screen has 3 dots ... in top right corner "click" and select your browser
Screen Icons:  
bottom of window: images or zones
inside image: a. 
another photo  b. other is info and/or link 
Device will show help options within app
 fastrack: 
be 

pro in 1 minute
Start Points
Start Points: Heritage Sculpture Trail


Route map
GPS live tracker route saved to several sites
desktop view of ALLTRAILS: interactive view of elevations and photo in route
we include path to bike hire station
link below image
gps route, elevation, pics 
Other links this route
Relive with video
includes 
3d interactive route 
move along the path to see elevation

Trek map
Icons show: Distance, elevations and link to more in each 
  Menu top left: select 
Zone Icons
Burswood
last 9 by latest edits: open table to sort by any column
Places visited